When:
Monday – Friday
TEŠÍME SA NA VÁS V LETE 2024!
Daily from 8:00 to 16:30.
For: Children from 6 to 10 years old
Where?
Beautiful space of the new private elementary school on Hummelova Street 4, Bratislava – Staré mesto
Price:
150 EUR/Week
The price includes:
all-day meals and drinks
materials
gifts and rewards for the children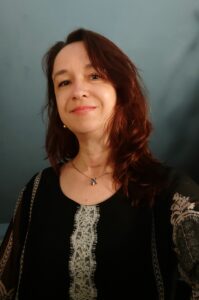 Slávka Feketeová, MBA
Experience English naturally!
I have been working in education as a pre-primary teacher for 12 years. I love working with children and believe that I can speak "their language," understanding their individuality and uniqueness. I am very creative and enjoy introducing children to music since I play the piano well and even create my own music. However, I only entered this profession after starting my own family and realizing that I have a wonderful connection with children. It has become my mission to foster their love for life, people, and the environment around them. I decided to pursue additional studies focused on preschool education. Additionally, as indicated by my degree, I have completed an MBA program at City University in Trenčín, where the entire curriculum was taught in English. 
Thanks to this, I had the opportunity to learn the language excellently and continuously improve in it. I have extensive experience leading a club for children that focuses on playful English language learning. I am thrilled that I can apply all of my previous experiences to working with your children. I believe that together we will create a beautiful family environment for them, where they will eagerly return every day, filled with a desire for new knowledge in both Slovak and English language. 
Mgr. Mária Procházková.
Experience a unique week by searching for Noah's Ark!
The children will be accompanied throughout the camp by the experienced pedagogue, Mgr. Mária Procházková. She describes herself as follows: "My name is Maja Procházková, and I have been a teacher at the primary school level for 30 years. Working with children brings me immense joy and fulfilment. Besides teaching at the primary school, I also provide private tutoring and prepare students for entrance exams to high schools (Gymnázium). During the summer holidays, I have worked for several years in a children's hockey camp in Trenčín and also in the camp called "Mudroňka-Deti hrou," where we engage children in learning through play."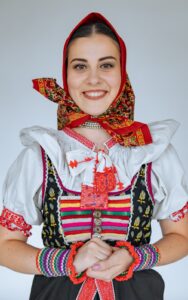 Mgr. Alena Petrasová,
Alenka is a young talented student of pedagogy, who has a natural gift for working with children. 
She completed her Bachelor's degree in the field of Remedial Pedagogy at the Faculty of Education at Comenius University. Subsequently, she pursued a Master's degree in Special Pedagogy.
Now she is completing her Master's degree in the field of Special Pedagogy, while kindly and professionally taking care of the children in our Škôlka sv. Michala. 

Alenka lives for folklore. She passes on the cultural heritage of our country to our children, instilling in them a love for art and reminding them of the importance of our country's history.
As a member of the camp team, she provides professional assistance to the educators. Together with them, she ensures an entertaining program for your children, taking care of their well-being and development.
Budúcoročné termíny zverejníme na jar 2024. Ak máte záujem o predregistráciu dieťaťa na leto 2024 bez konkrétneho termínu, môžete nám nechať odkaz a budeme Vás informovať ako prvých:  application form here.
We will send you the contract as well as all the terms and conditions after you fill out the application form.
If you have any questions, please do not hesitate to contact us at tel. 0949 463 070 or info@akademiasvmichala.sk